gWaoN
is a gtk+ GUI frontend for
WaoN
---
What's new?
What is gWaoN?
gWaoN is intended to be a gtk+ GUI frontend for WaoN (for a long long time).
Right now, gWaoN can do the following:
read an audio file (wav or flac) and analyze its spectrogram.
play the file through libao.
change the playback speed and pitch by phase vocoder in real-time!
November 4, 2007 (Release 0.9)
| | |
| --- | --- |
| | |
| About window. | Analyze window. |
February 16, 2007 (Release 0.5)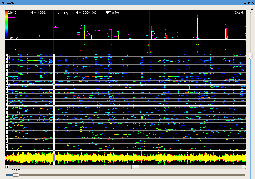 0.5 Release. The vertical scale controls playback tempo.
February 10, 2007
| | | |
| --- | --- | --- |
| | | |
| 1) Spectrogram by plain FFT. | 2) Fine spectrogram with the Phase-Vocoder corrections. | 3) Averaged spectrogram with the Phase-Vocoder corrections. |
Very Old Screenshot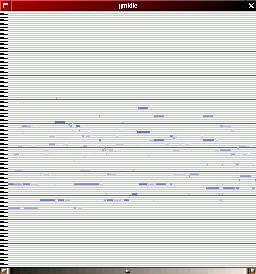 not functional, just an image.
gWaoN is included since Release 0.4. Please visit File Releases @ SF. Or you can get directory from CVS Repository.
To install the program "gwaon",
take a look at "Makefile" and edit it if necessary.
invoke "make gwaon", for example.
you'll see an excutable "gwaon". copy it wherever you want.
install man page "gwaon.1".
library
To build "gwaon", you need the following libraries:
Instructions
Here's a brief instruction to play.
1) load sound file (wav or flac, thanks to libsndfile.). then, you'll get the big window
2) adjust the right position you want by the scale and scroller at the bottom.
3) click the left button at some place to mark the position. the power and phase spectrum at that point is shown upper two panels.
4) play chaning some parameters. right now there are following key-bindings (if the key is not working, try typing TAB to focus the main window -- sorry but I do not know how to fix it):

SPC : play/stop
p, P : change analysis mode.
w, W : change the window function.
Right, Left : change the FFT size by factor 2.
Q, q : toggle PV mode (no phase lock/loose phase lock)
h, H : change hop size for the Phase-Vocoder correction.
o, O : change the upper octave limit.
l, L : change the lower octave limit.
Up, Down : change the upper limit for the power spectrum
PageUp, PageDown : change the lower limit for the power spectrum

5) change the tempo and pitch by the vertical scales in the right during the audio playback. you can play backward!
ToDo List
add toggle for grid on/off
reconsider key-bindings
add a display mode to see the octave structure for the spectrum-phase panel rotating 90-degree
conversion from WAV to MIDI (using WaoN function)
play-back function for the MIDI output
simple MIDI editor
etc...
History
Feb 24, 2007 :

waon-0.6 released!
loop-play, play-position indicator, loose phase lock PV.

Feb 19, 2007 :
Feb 16, 2007 :

waon-0.5 released!
audio-playback and real-time tempo-change (without pitch shift) functions are implemented!

Feb 10, 2007 : coming back!
Jan 10, 1999 : start this page.
---